Our Veterinarians are proud and long standing members of:
Association of Avian Veterinarians (AAV)
Association of Reptilian and Amphibian Veterinarians (ARAV)
Association of Exotic Mammal Veterinarians (AEMV)
Canadian Veterinary Medical Association
Alberta Veterinary Medical Association
Calgary Academy of Veterinarians
Distributed Veterinary Learning Community (UCVM)

Veterinary Information Network (VIN)

Dr. Leticia Materi, a native Calgarian, joined the team at Calgary Avian & Exotic Pet Clinic two weeks after graduating from the Western College of Veterinary Medicine in 2004. A year later, Leticia became a full partner in the clinic. Her academic accomplishments include her Bachelor of Science in Psychology with Honours (University of Calgary) and her Doctor of Philosophy in Anatomy and Neurobiology (Dalhousie University, Halifax, NS). Leticia truly loves exotic pets and enjoys sharing her knowledge. She has been invited to speak on exotic pet medicine and care at various local animal clubs, veterinary clinics in British Columbia and Alberta, the University of Calgary (pre-veterinary student association), and Ross University School of Veterinary Medicine in St. Kitts. She has volunteered many hours developing and teaching bird and rabbit First Aid courses to raise funds for local animal rescues. Dr. Materi's exotic pet blog can be followed at Petcha.com. She was the Canadian liaison for the Association of Reptile and Amphibian Veterinarians (ARAV) for many years. Her much loved family of pets includes her pug, Penny Lane, and the typical motley crew of rescues - Beanie the Hahn's Macaw, Morty the cockatiel, and Oy and Zelda the rabbits.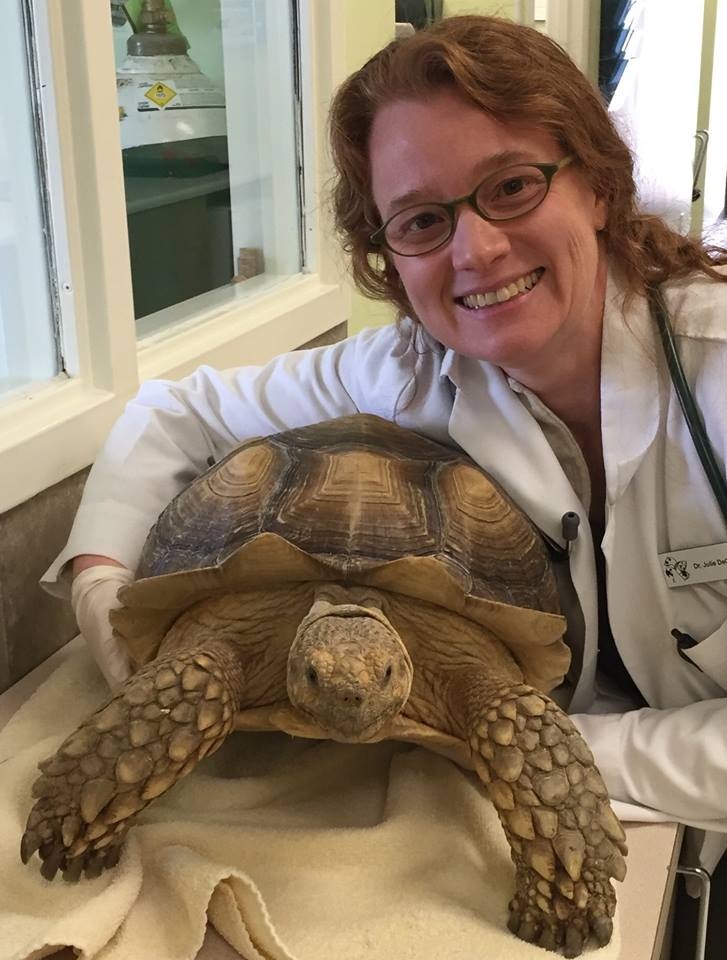 Dr. Julie DeCubellis, joined the practice in October of 2014, making the move from Boston with her husband, a pathologist at the Alberta Children's Hospital, her twins, Eli and Genevieve, and their menagerie of dogs, cats, chickens, and her Galah Cockatoo, Rosie. After completing a Bachelor's Degree in Biology and a Master's Degree in Animal Nutrition at North Carolina State University, Julie graduated in 2007 from St. George's University of Veterinary Medicine. She completed internships in small animal medicine & surgery and in avian and exotic medicine at Tufts University then entered a three year dual residency program in avian medicine and exotic companion mammal medicine in Boston. In 2012, she took on the role of clinical instructor at Tufts University where she combined practice in exotic pets with teaching. When not at the clinic, Julie spends time providing veterinary care to injured wildlife at the Calgary Wildlife Rehabilitation Society (CWRS). She has published numerous articles and book chapters on exotic pet care and brings a strong background in rabbit and rodent dentistry, making her the perfect fit for our team!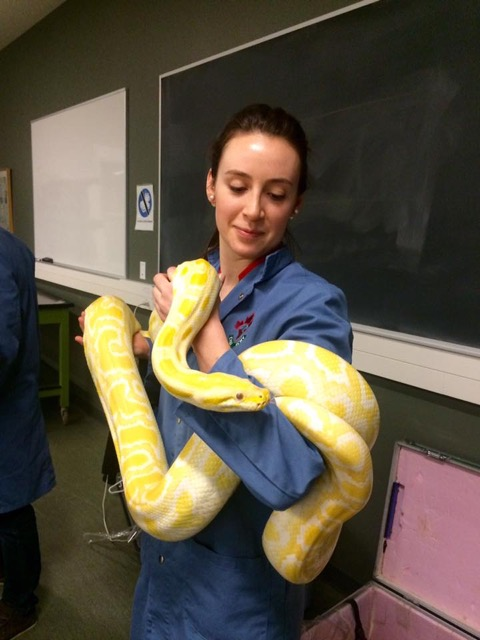 Dr. Kelsey Chapman joined our exotics team in the spring of 2017 as a graduate of the University of Calgary Veterinary Medicine. Having previously completed a Bachelor of Science at the University of British Columbia with a major in Earth and Ocean Science, Kelsey moved to Calgary for her veterinary schooling. During that time, Kelsey completed a research project on wildlife anesthesia and presented her findings at the conference for the American Association of Zoo Veterinarians in Dallas, Texas in 2017. Kelsey is currently the Canadian liaison for the Association of Reptile and Amphibian Veterinarians (ARAV). Kelsey has always had a love for exotics and has shared her home with a variety of amphibians, fish, reptiles, hamsters, budgies, and mice. She wanted her veterinary career to include exotic species care and after her rotation with us in her final school year, knew Calgary Avian and Exotic was the perfect fit. She has further solidified her dedication to exotic pet medicine by becoming a partner in the clinic. Kelsey loves all exotics and has a special interest in reptiles, amphibians and aquaculture, but like the rest of us, can't resist our adorable rodent patients! She shares her home with her Russian Tortoise, Littlefoot, Orwell, the Roborovski dwarf hamster and her tabby cat, Flynn. Away from the clinic, Kelsey enjoys playing guitar and riding her thoroughbred cross horse George, with whom she participates in Cowboy Challenge obstacle courses.